MALE MULTIPLES MAKEOVER WORKSHOP
LUMINOUS ENERGY ORGASM – EJACULATION CHOICE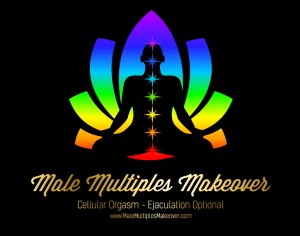 It is every male's spiritual right to experience more bliss, pleasure, orgasm and ejaculation choice when they make love to another.
Men CAN orgasm, for extended periods of time, with delayed ejaculation or no ejaculation at all!
.
.
My Male Multiples Makeover workshop, offers all adults with a penis, the opportunity to re-train their male bodies to become multi-orgasmic, just like a female.
The best way I can explain this male orgasmic phenomenon is by asking you to consider this question, "if ejaculation could be removed from the male orgasm, at the point of no return, do you think men could keep orgasming?" The answer is obviously…YES !!!
I have had amazing success coaching and training men to become multi-orgasmic. It is not hard, for a male, to re-train his body to reach intense levels of arousal without triggering ejaculation.
OUR MALE MULTIPLES MAKEOVER is a five hour workshop which begins with education and discussion about the male sexual anatomy and how arousal and orgasmic energy can be awakened into full-body enjoyment, with extended periods of orgasm and ejaculation choice.
A demonstration will be given showing arousal techniques utilizing Tantric, Shamanic, Sexological Bodywork™ and Taoist principles to awaken male sexual energy. Participants will visually be able to watch a males experience of a full-body orgasm, continuing into an cellular / luminous energy extended orgasm.
After the "Male Multiples Makeover" live nude demonstration there will be time for discussion about techniques demonstrated and how a male can take his newly acquired multi-orgasmic skills and incorporate them into his own sex life and his partner.
NOTE: My "Male Multiples Makeover" workshop is open to adults 18 years and over of all genders and sexual orientations. This is a fully clothed workshop for participants. During the workshop there will be a male nude demonstration showing male full-body orgasm.
Do "TEXT ONLY" to my registration mobile 0404 449 433 to register your interest.
Date: TBA
Venue: Bracken Ridge  North Brisbane
Duration: 5 Hours
Cost:
$250 Early Bird by
$300 per person after
This is a fully clothed workshop, for participants who are 18 years and over.
Note: A nude male model will be present for demonstration purposes.
ABOUT US:
Facilitator: Ms Aleena Aspley – Phone: 0404 449 433
…
Co-Facilitator: Ms Rose Richie
.
🙂
ALEENA ASPLEY AUSTRALIA WORKSHOP